The SMARTsurg video is here!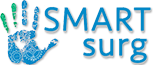 SMARTsurg
Here's a video providing an overview of the SMARTsurg project:
Optinvent is one of the consortium partners in the SMARTsurg H2020 projet that addresses robot assisted surgery with the use of our smart glasses.
Robot-assisted minimally invasive surgery (RAMIS) offers many advantages when compared to traditional MIS, including improved vision, precision and dexterity. While the popularity of RAMIS is steadily increasing, the potential for improving patient outcomes and penetrating into many procedures is not fully realised, largely because of serious limitations in the current instrumentation, control and feedback to the surgeon. Specifically, restricted access, lack of force feedback, and use of rigid tools in confined spaces filled with organs pose challenges to full adoption.
The SMARTsurg project aims to develop novel technology to overcome barriers to expansion of RAMIS to more procedures, focusing on real-world surgical scenarios of urology, vascular surgery, and soft tissue orthopaedic surgery.
The main vision of the SMARTsurg project is to enable complex minimally invasive surgical operations by developing a novel robotic platform for assisting the surgeon in such tasks.
You may find further information about the SMARTsurg project in the 2nd issue of the newsletter.
Important news and steps about SMARTsurg will be communicated through our newsletters, but also through social media, like Twitter and LinkedIn.